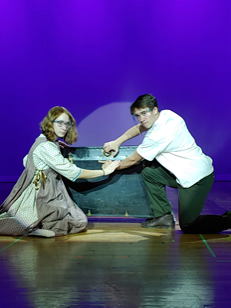 How did Peter Pan become Peter Pan? That is the question that proved to be the genesis at the heart of the creation of this year's Solanco fall play, Peter and the Starcatcher, which will be performed November 18 – 20 at 7:30 pm. Adapted by Rick Elice from a 2004 novel by Dave Barry and Ridley Pearson, Peter and the Starcatcher, follows two identical trunks that are placed aboard two ships: The Wasp and The Neverland. One trunk is filled mysterious "starstuff," which has magical properties and is under the protection of Lord Aster, a Starcatcher. The other trunk is filled with sand, a decoy. On the trail of treasure, the most dramatic pirate on the Seven Seas, Black Stache, commandeers The Wasp, only to find out the real trunk is aboard The Neverland. Meanwhile, on The Neverland, Lord Aster's daughter, Molly crosses paths with three orphan boys, one with no name. She and the boys must find a way to keep the trunk out of Black Stache's clutches.
The play, a sensation on Broadway in 2012, seemed to be the perfect fit for the Solanco stage, according to its director, John Biles, an English teacher at Solanco High School. "The play gives audiences of all ages a chance to revisit these famous characters before the events of Peter Pan in an exciting and imaginative way," he said. The play is performed in a style called, "storyteller theater." Biles explained further, "This style of theater encourages the use of props, costume pieces, and set pieces that children could find in their parent's garage. This is how it was originally done on Broadway. It is an imaginative style that requires our entire cast to work together in a very physically demanding and, at times, ingenious way."
Starring as Peter (the boy with no-name), Josh Sharp, a junior, is no stranger to the Solanco stage having appeared in last year's productions of Radium Girls and The Pirates of Penzance. His counterpart, Molly, is brought to life by sophomore Devon Culberson, making her Fall Play debut. She explained that audiences can expect a fun night of theater. "Comedic lines coexist with tender moments, brought all together through a deep desire for adventure, freedom, and family." She added that the rehearsal process been an exciting challenge for the cast. "This experience has been a little more intense than some of the other productions I've been in," she said. "For many scenes, even if you're not on stage, you still have to stay alert to deliver lines and pay attention for when you enter. "
In addition to Sharp and Culberson, the talented cast includes Elliot Anderson, Kira Brazelton, Maria Eden, Anna Fite, A.J. Jackson, Madison Kut, Samantha LaMonaca, Jyllian Law, Liz Main, Lilia McHugh, C.J. Miller, Aidan Todd, David Wild, III, Quinn Wiley, and Cassie Wright. Lilia McHugh provided choreography, while Haleigh Bauer handled student assistant director duties. Michael Eisenberger is the student stage manager and Lucia Eden is the assistant student stage manager.
While suitable for children and adults of all ages, the play is most enjoyable for ages 10 and up. All tickets are general admission and can be purchased at the door (cash or check only). Tickets are $7 for adults and $5 for students and senior citizens. Tickets can be purchased in advance by visiting the Solanco High School main office or by calling 717-786-2151 or at the door.